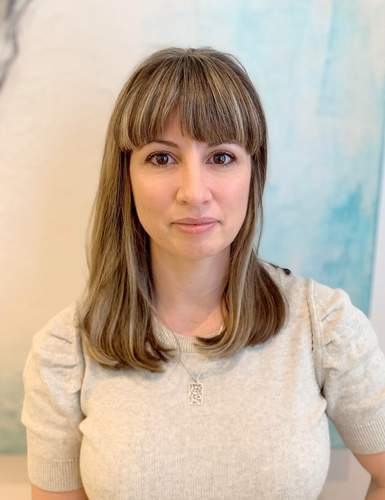 Dr. Romana has a life-long interest in the human body and is a proponent of healthy lifestyle with a multi-disciplinary and evidenced-based approach for generating health and well-being. She uses a diversified Chiropractic technique using a hands on approach incorporating spinal adjustments, joint mobilizations, soft tissue therapy, therapeutic exercises, and nutritional education with a strong focus on Acupuncture to treat pain and dysfunction. She has taken additional training in Neurokinetic Therapy® (NKT), a manual muscle testing technique, to get at the root cause of a patient's pain and help address and correct compensation patterns.
Dr. Romana Schmidt graduated as a Doctor of Chiropractic from the Canadian Memorial Chiropractic College in 2011. After completing her Chiropractic Degree she went on to complete the Contemporary Medical Acupuncture Program at McMaster University. Prior to her Chiropractic education she attended McGill University and graduated with a Bachelor of Science in human anatomy and cell biology. Dr. Romana has a strong passion for working with prenatal and paediatric care and has completed additional training in Webster Technique and infant musculoskeletal health.
Each treatment plan is specifically tailored for each patient to encourage healing and to provide the tools and education needed to optimize their health, function, and movement.
"I have one goal in mind - to help my patients feel better as quickly as possible and to empower them to take control of their health through active care and rehabilitation."
Additional Training and Certifications
McMaster Medical Acupuncture
(NKT) Neurokinetic Therapy - Level 2 Certified
Webster Technique for Pregnancy
MSK Health in Infants
Concussion Management Level 1
Myofascial Release (formerly ART certified)
Graston / Instrument Assisted Soft Tissue Mobilization
Kinesio Taping
Roll Model Method - Jill Miller
Clinical Companion to Fix Your Own Back for Disc Herniations - Phillip Snell
Immaculate Dissection (Peripheral Nerve Entrapments, Core Concepts & Breathing) - Kathy Dooley
In her spare time, Dr. Romana enjoys leading a healthy and balanced lifestyle with good nutrition and exercise such as cycling, strength training, yoga and snowboarding.
Find more information about Dr. Romana @ drromana.ca